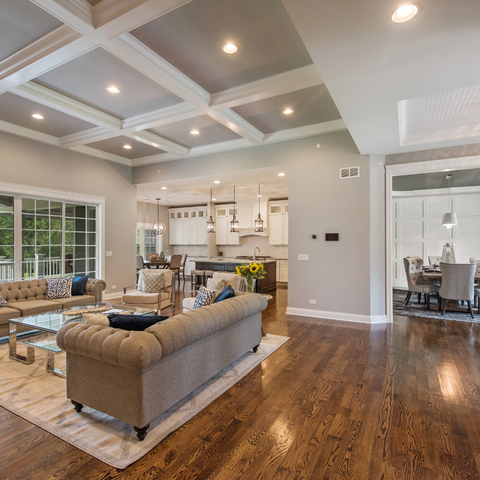 Hardwood floors are the pinnacle of luxury flooring, complementing almost any décor scheme, be it traditional, contemporary, or modern. However, your beautiful flooring is prone to yoghurt spills, mud tracks, dog piddle, spilled milk and more. 
You are aware of how dirty your floors can become, and we are sure that you have your own cleaning routine. These dos and don'ts will help you maintain their durability and maximise their life by protecting them from dirt, water, dust, and mud. Let's get right into it…
Dos:
a) The best way to keep your floors in good condition is to sweep and/or vacuum them on a daily basis. You should also mop your floor once or twice a week as needed.
b) Place floor protectors on the legs of your furniture. These are felt pieces that stick to the bottom of your couch or chairs, to prevent them from scratching the floor when you bump or move them. To avoid scratches, you can also glue felt pads to the legs of your furniture.

c) Your pet uses not two, but four limbs on the  floor! Keep their nails trimmed and paws clean to avoid additional dirt and scratches on your hard wood flooring.
d) When you enter the house, remove your shoes. While you may believe that this rule only applies to carpeted floors, the rocks and debris in your shoes can easily scratch your wood flooring. To keep dirt and debris at bay, use soft doormats and rugs.
e) Hardwood floors absorb moisture quickly. Wipe up any excess water that you may have spilt on the floor. While it will dry on its own, prolonged exposure can cause soft wood to deteriorate. Even if your floor has been waxed or sealed, the liquid could erode the protective coating. When liquid spills dry, they become stains that are difficult to remove. These stains may leave blotches or scratches on your hardwood floor over time.
f) Polish your hardwood floor on a regular basis to maintain the lustre and extend the life of your floor. Those who have solid hardwood floors can wax them as well.
g) Maintaining the proper temperature and humidity will ensure that your wooden floors have a long and healthy life.
h) Use blinds or curtains to shield wood surfaces from direct sunlight. Prolonged or repeated exposure to bright light can cause wood to change color.
Don'ts:
a) Just like carpets, wine spills on wooden floors are a disaster.
b) Do not soak hardwood floor in water. Hardwood floors are classified into two types: solid hardwood and engineered hardwood. Despite the fact that they both have a solid wood top layer, it is still best to avoid soaking the material before starting your vacuum mop robot.
c) Steel wool and brushes should not be used. Hardwood floors are softer and more susceptible to scratches than ceramic or vinyl floors.
d) Vacuum and mop your hardwood floor only as needed. Even if you have a cleaning robot, it is not necessary to mop the floor every day. Once or twice a week is sufficient, but for a home with pets or children coming and going all day, a daily dirt-removal regimen is the best plan to prevent dirt from scratching your floor.
e) Avoid using oil, wax, or any other furniture spray, and save your wooden floors from steam cleaning. Steam cleaning is intended for tile, linoleum, and vinyl floors, and if done on a wooden floor, it may leave the floor looking dull. Avoid it.
f) Never use ammonia, alkaline products, or any other abrasive cleaners on your wooden floors.
g) Do not drag furniture or heavy objects across your finished wooden surface. Lift it and move it around. On the finished surface, avoid rolling chairs with casters. Place them on rugs or chair mats made of Plexiglas. Replace narrow casters with wide rubber or flexible polyurethane casters.
The Best Tool At Your Disposal – Roborock S7 MaxV Ultra
Robot vacuums are an excellent choice for many homeowners. They are docked in a base that charges them while they are not vacuuming. Robot vacuums like the Roborock S7 MaxV Ultra leave the base automatically at a predetermined time to move around your floors, using sensors to cover the ground and avoid obstacles. Simply put, they do all of the vacuuming for you.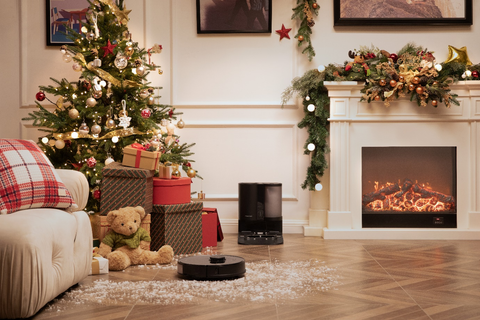 A vacuum mop robot is advantageous in many ways when cleaning hardwood floors:
1) Robotic vacuum mops are gentler than traditional tools like brooms or vacuums, which don't protect the finish of hardwood floors.
2) Furthermore, vacuum mop robots like the S7 MaxV Ultra, are typically designed with smart mopping programmes, which reduces the risk of oversaturating your floors with water.
3) These hand-free intelligent gadgets can also reach dead corners, whereas previously you would have had to bend down or even lie down on the floor to clean these dead corners.
The Roborock S7 Max V Ultra features a fully automated Empty Wash Fill Dock, as well as improved hazard detection. It is Roborock's most advanced dock to date. The Empty Wash Fill Dock, unleashes a world of new conveniences for those who demand the cleanest wooden floors.
Cleaner Homes - Better Homes
Previously, many households found it difficult to maintain hardwood floors. Vacuum mop robots, such as the Roborock S7 MaxV Ultra, have made hardwood cleaning more convenient in many ways. These intelligent devices can also clean corners that are difficult for you to reach, improving the hygiene of your homes and floors. You no longer need to bend down for long periods of time when you have a vacuum robot at home. Instead, you can sit on your sofa and let the robot clean your floors for you.