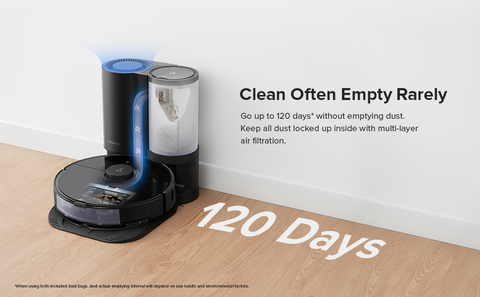 The COVID-19 pandemic has opened new avenues for the robotic vacuum cleaner market. Since the pandemic, sales of robot vacuums have increased due to the need for cleanliness and hygiene in homes and commercial spaces, as well as to limit the spread of bacteria and viruses.
These robot mop and vacuum can clean and mop floors efficiently by reaching beneath beds, cupboards, and tables. Additionally, the work-from-home environment has compelled consumers to keep their homes clean, due to the increased time spent at home.
Focus on the job at your desk not the one on the floor!
Robot vacuum cleaners are the post-pandemic world's domestic helpers. When there is a global health crisis outside, robot vacuum cleaners are the best option for the health and hygiene of your home.
When we live in a clean and fresh environment, it has a direct impact on our mental and physical well-being. It also makes us feel clean and refreshed. Simply turn on the Roborock S7+ Robot Vacuum Cleaner and work from home, do yoga, or do whatever makes you happy.
Reasons for growth
The growing popularity of intelligent and connected vacuum cleaners, like the Roborock S7+, with voice control and smart navigation features drives the demand for robotic vacuum cleaners. To meet changing consumer needs, new robot vacuums are being equipped with AI features and smart navigation to avoid collisions with walls and provide better floor cleaning.
Furthermore, the growing adoption of smart household appliances for household chores, as well as the busy consumer lifestyle, are both driving the growth of the robotic vacuum cleaner market.
7 obvious benefits
1) Robot vacuum cleaners save you time - from cleaning the floors to cleaning the mops afterward!
2) Robot vacuum cleaners are easy to use. Its presets can be set through your smartphones as well.
3) The robot vacuum cleaners have sensors that adapt to the cleaning area, disperse the dirt on their own, and return to the charging station after cleaning.
4)They can detect whether the floor is carpeted or not, whether it is wooden or tiled, and will function accordingly. The Roborock S7+ has intelligent mop lifting, which means when a carpet is detected, the mop is lifted out of the way.
5)You can program it to clean only a specific area, space, or room. It's especially useful if you have pets and don't want the robot vacuum to scare them.
6) You are not required to pay anyone a monthly salary, once you have purchased this aid for yourself.
7) The Roborock S7+ Robot vacuum can detect any type of dirt (up to 0.3 micron) while cleaning and will operate based on the amount of dirt to be cleaned. When it's time to empty, a swift pull of the dustbag seals it shut, ready for instant disposal.
Segmentation & Types Of Robot Vacuums
Robotic vacuum cleaners are divided into three types: cleaning robots, mopping robots, and hybrid- robot mop and vacuum. Because of the low cost, the cleaning robots segment accounted for the largest share in 2021. Furthermore, traditional infrastructure transformation to homes and commercial spaces,  supports and drives the market for smart appliances.
The robot vacuum cleaner market is divided into two categories: residential and commercial. Due to increased adoption of robotic and standard vacuum cleaners in homes, hectic lifestyles, less time to perform household chores, and expensive house helpers in North America and Europe, the residential segment commanded the largest share of the market in 2021.
What Does The Future Hold?
From 2021 to 2028, the global robot vacuum cleaner market is expected to grow at a CAGR of 23.2%, reaching $15.4 billion. This market is expected to reach 60.9 million units by 2027, growing at a CAGR of 17.7% between 2021 and 2028.
In Summary
During a global health crisis, a robot vacuum cleaner stays at home with you and assists you in making your life easier. The benefits of robot vacuum cleaners will become apparent as you strike your work-life balance.

Wondering what is the best robot vacuum mop combo? Contact us for more information on the sonic mopping, mop lifting, and auto-emptying Roborock S7+.